In this post, you will learn important words in phrases to talk about the weather in German. The word list includes most used German nouns, verbs, and adjectives along with the examples word usage. You can download and print this German vocabulary list to learn the words. Also, don't forget to answer the question at the end of the post in the comments.
German vocabulary list for beginners: Weather
1. das Wetter – weather
Wie ist das Wetter heute? – How is the weather today?
Das Wetter ist heute sehr schlecht. – The weather is very bad today.
Hoffentlich wird das Wetter morgen schön. – Hopefully, the weather will be nice tomorrow.
2. die Wettervorhersage – weather forecast
Hast du die Wettervorhersage gesehen? – Did you see the weather forecast?
3. der Wetterbericht 
– 
weather forecast
Was sagt der Wetterbericht für morgen? – What does the weather forecast for tomorrow say?
4. die Sonne – sun
5. scheinen (schien – hat geschienen)
– to shine
Die Sonne scheint. – The sun is shining.
Im Winter scheint in Deutschland kaum die Sonne. – In winter the sun hardly shines in Germany.
6. sonnig – sunny
Heute ist es sonnig. – Today it is sunny.
Ich hoffe auf sonniges Wetter am Wochenende. – I hope for sunny weather on the weekend.
7. der Regen – rain
Ich mag Regen mehr als Sonne. – I like rain more than the sun.
8. regnen (hat geregnet) – to rain
Es regnet oft im Herbst. – It often rains in the fall.

Hat es gestern geregnet? – Did it rain yesterday?
9. regnerisch – rainy
Was machst du an regnerischen Tagen? – What do you do on rainy days?
10. schön – nice
Wir hatten so schönes Wetter am Wochenende. – We had such nice weather at the weekend.
11. schlecht – bad
Es gibt kein schlechtes Wetter, sondern nur schlechte Kleidung. – There is no bad weather, only bad clothes.
12. der Regenbogen – rainbow
Ich habe schon lange keinen Regenbogen mehr gesehen. – I have not seen a rainbow for a long time.
13. der Schnee – snow
Im Winter gibt es hier viel Schnee. – In winter there is a lot of snow here.
14. schneien (hat geschneit) – to snow
Es schneit heute. – It's snowing today.
Gestern hat es auch geschneit. – It snowed yesterday as well.
15. vereist 
– icy, frozen
Die Straßen sind im Winter vereist. – The roads are icy in winter.
16. der Hagel – hail
Jedes Jahr verursacht Hagel schwere Schäden. – Every year hail causes severe damage.
17. hageln (hat gehagelt) 
– to hail
Es hagelt. – It's hailing.
18. der Himmel – sky
Der Himmel ist blau. – The sky is blue.
19. die Wolke(n) – cloud(s)
Da sind einige Wolken am Himmel. – There are some clouds in the sky.
20. bewölkt, wolkig – cloudy
Laut der Vorhersage soll es morgen bewölkt sein. – According to the forecast, it should be cloudy tomorrow.
21. der Nebel – fog
Im Winter und Herbst gibt es häufig Nebel. – In winter and autumn, there is often fog.
22. neb(e)lig – foggy
Der letzte Winter war neblig und grau. – The last winter was foggy and gray.
23. der Wind – wind
Der Wind weht stark. – The wind blows strong.
24. windig – windy
Das Wetter war windig, aber nicht kalt. – The weather was windy but not cold.
25. das Gewitter – thunderstorm
In Deutschland kommen Gewitter am häufigsten in den Sommermonaten vor. – In Germany, thunderstorms occur most frequently in the summer months.
Mein Hund hat Angst vor Gewitter. – My dog is afraid of thunderstorms.
26. der Blitz – lightning
27. der Donner – thunder
Der Donner kommt nach dem Blitz. – The thunder comes after lightning.
Es donnert und blitzt. – It is thundering and lightening.
28. kalt (kälter – am kältesten) – cold
Mir ist kalt. – I'm cold.
Heute ist es ziemlich kalt. – It's pretty cold today.
Es ist total kalt draußen. – It's totally cold outside.
29. warm (wärmer – am wärmsten) – warm
Mir ist warm. – I feel warm.
Die Sonne ist heute wirklich warm. – The sun is really warm today.
30. heiß (heißer – am heißesten) – hot
Mir ist so heiß. – I am (feeling) so hot.
31. die Temperatur(en) – temperature(s)
Die Temperatur liegt im Dezember durchschnittlich bei elf Grad Celsius. –  The average temperature in December is 11 degrees Celsius.
32. Grad – degree(s)
Die Wassertemperatur beträgt im Winter nicht mehr als 15 Grad Celsius. – The water temperature in winter is no more than 15 degrees Celsius.
Tagsüber sind durchschnittlich 29 Grad Celsius die Regel. – During the day, an average of 29 degrees Celsius are the rule.

33. steigen 
– to rise, increase
Im Sommer steigen die Temperaturen selten über 24 Grad Celsius. – In summer, temperatures rarely rise above 24 degrees Celsius.
Im Sommer steigt die Temperatur tagsüber meist auf 25°C. – In summer, the temperature during the day usually rises to 25 ° C.
34. sinken
– to fall, drop, decrease
Nachts kann die Temperatur auf unter 10 Grad Celsius sinken. – At night the temperature can drop below 10 degrees Celsius.
Nachts sinken die Temperaturen meist nicht unter 20 Grad Celsius. – At night, the temperatures usually do not drop below 20 degrees Celsius.
35. die Luft – air
In der Nacht kühlt sich die Luft auf 19°C ab. – At night, the air cools down to 19 ° C.
Answer the questions and practice new German words in the comment section:
1. Wie is das Wetter in Deinem Land?
2. Wann ist es warm, wann ist es kalt, wann regnet und schneit es in Deinem Land?
[one_half]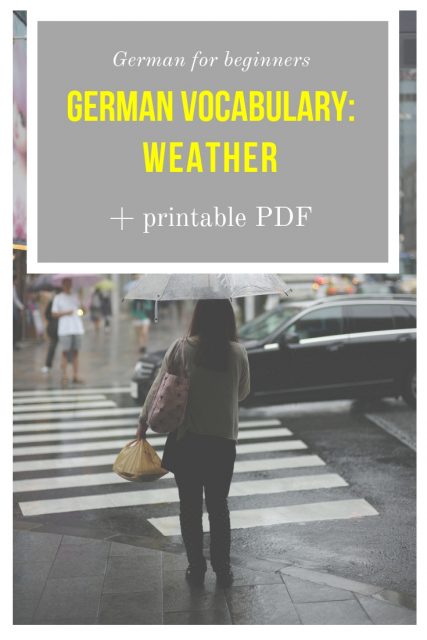 [/one_half]
[one_half_last]
[/one_half_last]